Where borders are not barriers
Client first is our mantra and our practice. We listen and find out what keeps our clients up at night. They are global and so are we. We talk and work cross-regionally with our colleagues and can bring cross-regional solutions.

Teamwork is intrinsic to our success and requires diversity—different cultures, languages, backgrounds, country of origin—and our results demonstrate that our team excels with our people.
Our network
Our global trade finance business leverages our team of more than 300 professionals in 32 locations around the globe, with five major hubs in Hong Kong, London, New York, Singapore, and Tokyo.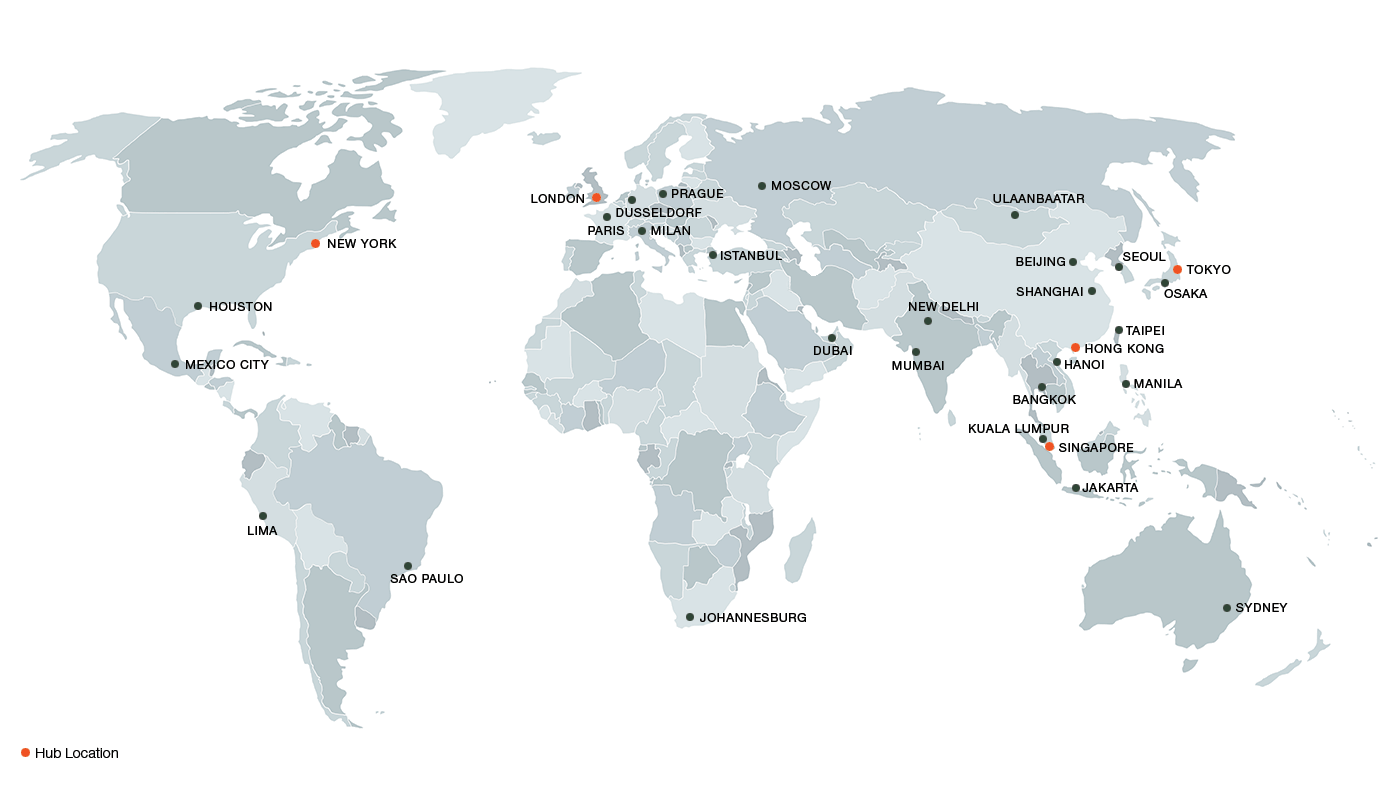 Our products and services
We go beyond the basics. For instance, our expertise in Environmental, Social, and Governance (ESG) matters is significant—we can assist clients to bring a more sustainable business environment on board and thereby help support a greener and safer world.
Our dedicated global trade finance teams have breadth and depth in the following areas:
Documentary Trade and Trade Loans

Letters of Credit, Documentary Collections, Bank Guarantees, Standby Letters of Credit, BA Refinance to Financial Institutions.

Receivable Finance

Accounts Receivable Purchase, Supply-Chain Finance, Draft Discount, Insured Receivable Purchase, Dynamic Discount, Working Capital Solutions.

Structured Trade and Commodity Finance

Commodity Financing, Pre-Export Finance, Inventory Finance, Borrowing-Base Loan, Pre-Payment Loan, Structured Finance Solutions, Vanilla Commodity Trade Projects.

Structured Export Finance

Export Credit Agency Finance, Multilateral Agency and Development Finance, Institutional Finance, Other Government Direct Loans/Guarantees (targeted toward domestic priorities), Two-Step Loan Structure, Buyer's Credit (corporate and project finance structures), Supplier Credit Structures.
In addition, we have teams in place to provide these solutions to clients:
Formally launched in 2020, this team is focused on strategically investing in and partnering with best-of-breed complementary digital trade platforms. This includes the Marco Polo Network—the largest and fastest-growing distributed network for global trade and supply chains. These ongoing initiatives have accelerated our ability to digitize, streamline, and scale global trade finance operations. In turn, this allows us to offer a more secure, accessible trade finance experience tailored to meet the diverse needs of our clients.
Our team works closely with clients to support the Trade Finance and Export Credit Agency, as well as multilateral lending agencies. We provide financing solutions globally—across the Americas, Europe, Middle East and Africa, and Asia. Our Trade Solutions New York team works with our Trade Solutions teams located in Hong Kong, London, Singapore, and Tokyo. We coordinate our global teams to brainstorm results matching client needs and provide the optimal solution.